Description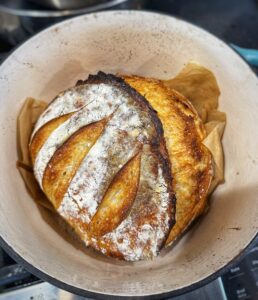 Enjoy a fresh made Artisan Sourdough Bread loaf. Made from a scratch with fresh and clean ingredients. Approx. 1lb.
What is Sourdough?  Sourdough is  a slow-fermented bread. It's unique because it does not require commercial yeast in order to rise. Instead, sourdough is made with a live fermented culture,  a starter, acting as a natural leavening agent. Sourdough is  well described to be known for its tangy flavor, chewy texture and crisp, crackly crust.
From a health standpoint, it stands out when compared to supermarket loaves. The naturally occurring acids and long fermentation help to break down the gluten, allowing it to be more digestible and easier for the body to absorb. And it tastes amazing!
Why is Sourdough Bread so good?
Sourdough has a higher levels of vitamins, minerals, and antioxidants than other breads. It also contains decreased levels of phytate and therefore allows your body to absorb the nutrients it contains more easily than those in regular bread.
Ingredients: Unbleached Bread flour, Sourdough starter, Water, Salt.